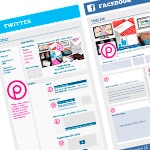 January 21, 2014 10:02 pm
Leave your thoughts
Joey from thepinkgroup.co.uk let me know about a great resource for social media design. It's called Social media cheat sheet – super speedy, all you needy and I love the layout and look as well as it being a great resource for designing for all the different social media sites.
I have found that social sites change every so often so it is always great to have an up to date resource to refer to.
You can visit the sheet here and download a copy for yourself.
Categorised in: Blog
This post was written by amanda-avadmin