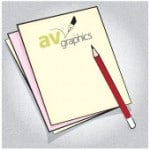 June 21, 2013 11:58 am
Leave your thoughts
At the end of the financial year it marks AV Graphics 3rd birthday. Every year has been getting better and better and I can't believe it has been three years already since I started working freelance.
This year and especially the last six months have been extremely busy for me. I have been working on both print and web work with some interesting web sites. Considering I didn't do any front end coding at the start of going freelance I feel I have achieved a lot in the last 2 years and I also feel my code and web design is evolving. I am finding the web design world is an ever changing beast and trying to stay up to date is imperative. This is where I find twitter to be an amazing tool. The network of people out there that post information about web ideas, tips, tricks and tutorials is fantastic. I find it to be such a great resource.
In the last few months I have had few websites that I have worked on as AV Graphics go live Sixth Sense Security, Award Realty and Ausico Industrial Insulation but still the majority of my web work is still as a contractor for agencies where I have worked on projects for church organisations, trade services, professionals and even an adult store.
In summary I have enjoyed the last three years with it's up and downs, but the thing I have enjoyed the most has been the skills I have picked up along the way and the variety of projects I have worked on. Heres to many more years to come.
Categorised in: Blog
This post was written by amanda-avadmin